Men's 1st Team win the Midland League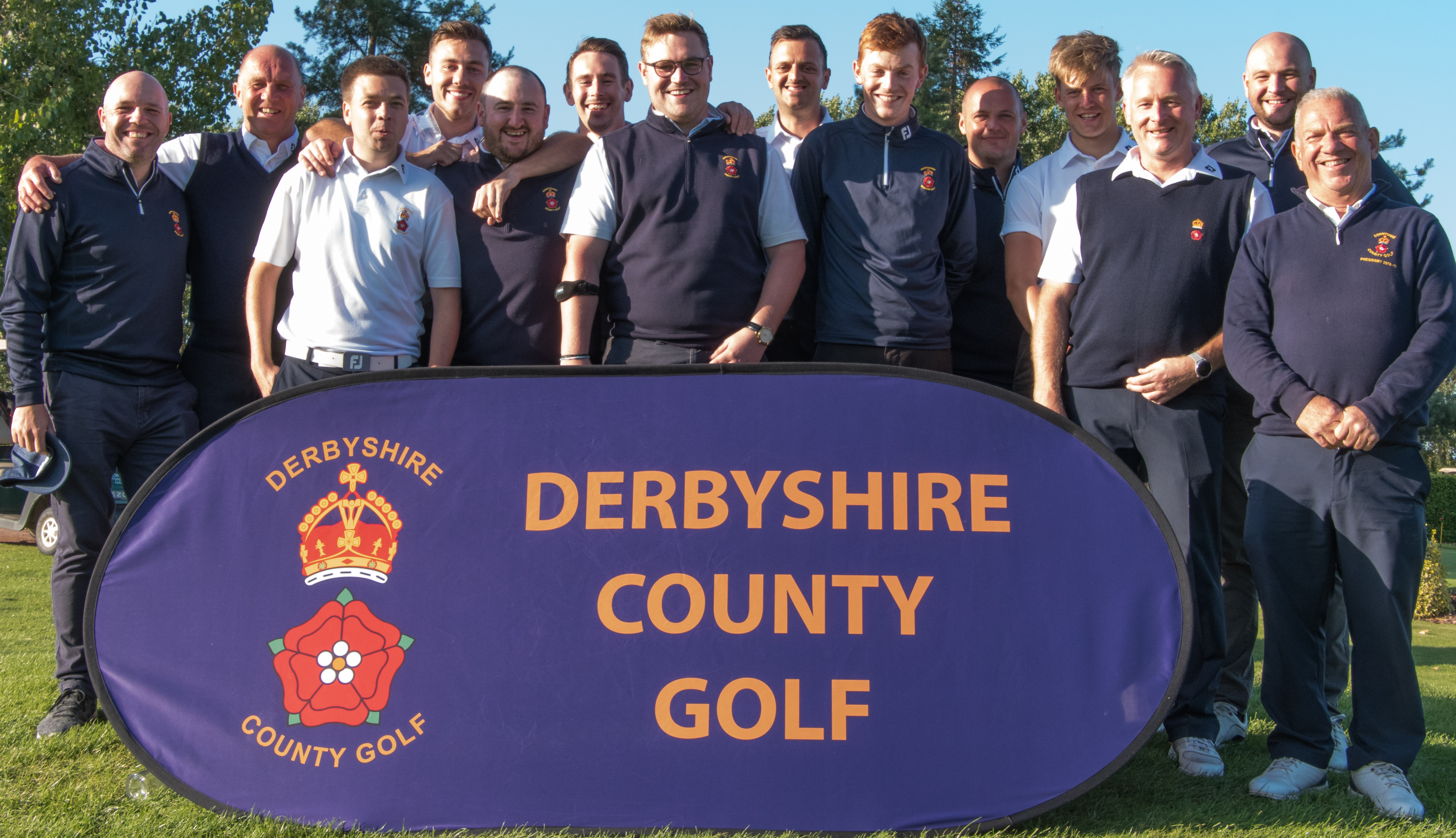 Wins earlier in the season against Staffordshire, Worcestershire and Warwickshire left the Derbyshire Men's 1st team leading the Midland League by 3.5 points with 1 game to play. This was away against Shropshire & Herefordshire at Burghill Valley Golf Club.
Captain Dan Housley, in a bid for a better physique, jumped on his bike. Unfortunately for him and the team, he fell off and broke an elbow. Would this lack of balance affect the balance of the team?
The morning foursomes was a very tight battle with 4 matches looking like they could go all the way around the turn and losing in 1. But strong finishes from the Derbyshire Men ensured Derbyshire took a 3.5 - 1.5 lead at lunchtime.
The results from the morning foursomes.
Sam Glossop & Josh Thorley Won 1up
Nick Newbold & Ryan Wesslingh Won 2&1
Mitch Handley & James Booth All square
Will Davidson & Josh Ashton Won 2&1
Paul Tatlow & Darren Coop Lost 2&1
The singles went in Derbyshire favour from the start with Derbyshire leading early in many of the afternoons matches. With a comfortable 7-3 in the singles, Derbyshire managed to win the match 10.5 - 4.5 and clinch the league by 3 points for the first time since 1997.
The final scores from the afternoon singles.
Sam Glossop (Chevin Golf Club) Won 8&6
Josh Thorley (Chevin Golf Club) Won 4&3
Ryan Wesslingh (Kedleston Park Golf Club) Lost 4&3
Nick Newbold (Kedleston Park Golf Club) Won 1up
Mitch Handley (Mickleover Golf Club) All square
Josh Ashton (Kedleston Park Golf Club) Won 1up
Will Davidson (Breadsall Priory Golf Club) All square
Darren Coop (South Chesterfield Golf Club) Won 4&3
James Booth (Shirland Golf Club) Won 4&3
Paul Tatlow (Kedleston Park Golf Club) Lost 4&3
Special thanks to all the players involved in making this happen, their commitment has been outstanding all year and the team spirit has certainly helped make this win achievable.
A big thank you to Derbyshire President Paul Longden who has been with the team for every game this season offering many words of wisdom. Thank you also to Wayne Mayo, Haden Green, Helen Wheatley, Trish Longden, Richard & Nicola Ashton for their support on the day.
What a fantastic season that will take some time to sink in what the Derbyshire Men have achieved.