Boys U18s - West Midlands League Winners!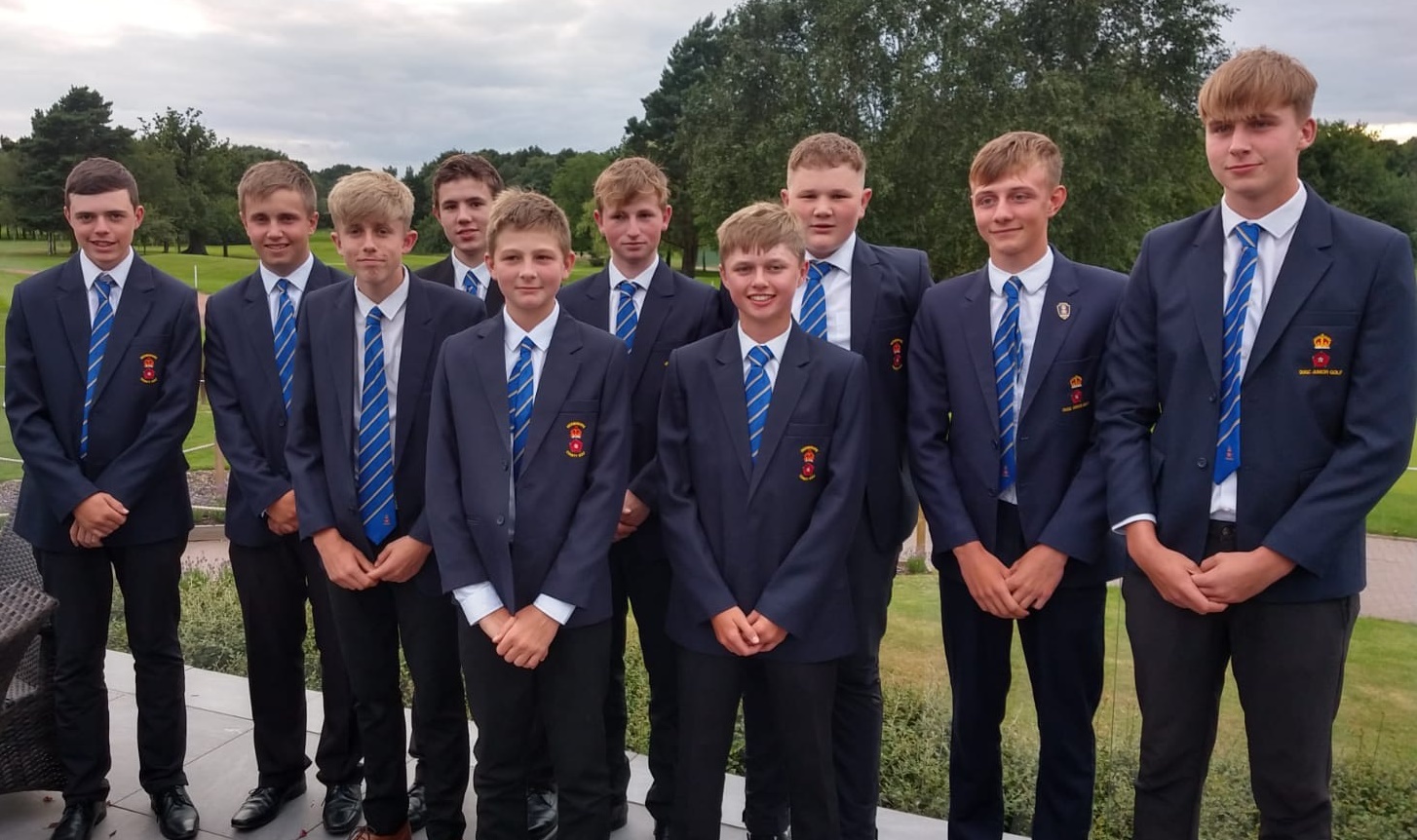 The Derbyshire Under 18 Boys completed a remarkable comeback against Staffordshire to overturn a 2 point deficit after the morning foursomes and emerge 10-5 winners. This gives the lads maximum points from their 3 matches and ensures they will represent the West Midlands against the best team from the East Midlands in the Midlands Final in October.
The match started poorly with the top three foursomes matches all down at the half way point. A great comeback in match 3 saw Henry Hayward and Ben Wain snatch a great point and there was a half in match 4, from Jack Barker-Sabido and captain Max Hughes. The front match was taken to the last even though Sam Potter and Dan Heaslip were 5 down through 11 at one point. This mini-comeback, whilst ending in defeat, seemed to stir the lads at lunch and make them believe a win was still possible.
We were off to a flyer in the singles with early leads in the top matches and some great scoring to match. Wins in the first 2 matches were vital and they were secured with a great up and down from Sam Potter to halve the last and beat Harry Fearn and some superb play around the greens from Dan Heaslip saw him win 2 and 1. Henry Hayward played sub-par golf to beat Yas Oakley on the 17th. Wins from Matt Pepper, Ben Wain and Jack Barker-Sabido, the latter making birdies on the first three holes of his match put us on the verge of victory. An up and down from a bunker to the right of 18 gave Max Hughes a half and put us over the line. Tom Weeks and Tom Allen followed up with late wins. Louie Cole was the only loser as we emerged 10-5 winners to follow up earlier wins against Shropshire and Herefordshire, Worcestershire and Warwickshire and ensure we clinched the West Midlands title.
Team manager John Barker commented,
' This was a remarkable turnaround, and secured comfortable victory from what looked like defeat at lunchtime. The lads deserve full credit for their commitment to the county. They are all in the middle of busy playing schedules so to put aside time to represent Derbyshire is admirable, and was well rewarded with this performance. Huge thanks got to Presidents, past and present who supported us, and to the parents who yet again gave up their time to get the lads there. We can now look forward to the Midlands final in October.'