Josh Ashton and Nick Newbold capture the Silverware
On Sunday, the Men's elite battled the dry, firm fairways of Kedleston Park whilst competing for the Henriques and Leo Feeney Trophies.
The Henriques Trophy was retained by the promising Josh Ashton whilst County Captain Elect, Nick Newbold captured the Leo Feeney Trophy by two shots from runner-up Paul Tatlow. All are Kedleston Park members so home advantage seemed key.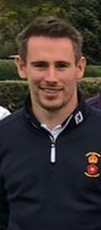 RESULTS
Henriques Cup and The Leo Feeney Memorial Trophy 2021
Sunday 2nd May 2021 - Kedleston Park Golf Club
Competition Place Score Name Club
Henriques Winner 72 Josh Ashton Kedleston Park
Runner Up 79 B9 Henry Hayward Kedleston Park
Leo Feeney Winner 71 Nick Newbold Kedleston Park
Runner Up 73 B6 Paul Tatlow Kedleston Park
3rd Place 73 Alex Sowter Erewash Valley
4th Place 74 B9 Will Harvey Kedleston Park
All Best Nett 73 B9 Jamie Boler Chesterfield
2nd Nett 73 Rob Palin Horsley Lodge
3rd Nett 74 Ben Wain Kedleston Park
It was the first major event to run in Derbyshire following the struggles with Covid. Many thanks to Robert Simpson and his Kedleston team who assisted well from start to finish. Past President, John Beddington braved the chilly but sunny morning to start them all on their way and was ably supported by current President, Cynthia Machent.