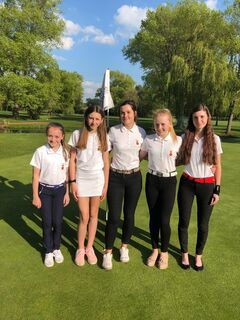 Congratulations to the Handicap Team who only narrowly lost to Shropshire last weekend at Branston. It was a glorious sunny day, and although I was at my grandparent's 90th I have heard from numerous sources that you all played extremely well and gave it your all, so I am very proud of the team. Thank you very much to Mickey, who took on the Team Manager role for the day. Your experience and enthusiasm was much appreciated.
We were giving a few shots in most matches which is never easy on an unfamiliar course but looking at the scores, your determination was evident and worth congratulating in every match.
Well done to Ella and Millie who both won their matches and thanks to Jenna for again leading the team as a reliable and fun Captain.
Alice Lowe
County Girls Organiser.