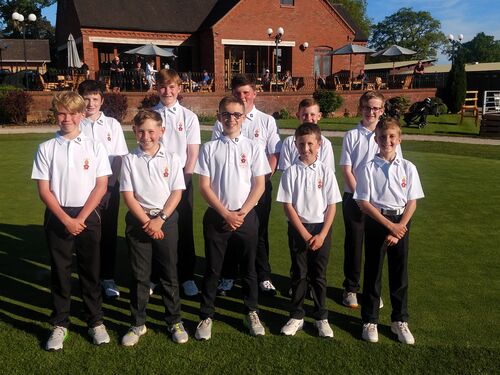 Derbyshire Under 14s vs Staffordshire – Sunday 30th May 2021 Brailsford Golf Club
Probably the youngest side ever to represent our County played against Staffordshire at a gloriously warm and sunny Brailsford yesterday, in the first County Junior match since 2019!
10 nervous and excited youngsters gathered around the 1st tee to watch Captain Jack Guy lead the way, partnered by Jay Whatley. In what was to become a feature of the matches, they went well behind early on and were always up against it. 4 down through 6, they battled back to 1 down before again going 3 down, this time with 4 to play. But a birdie for Jack on 15, and a great 20 foot breaking putt on 17, saw them reduce the deficit to 1 going down the last. A superb pitch from 80 yards to 4 feet and the putt to follow from young Jay saw the lads earn a brilliant half, and gave them an experience they will never forget.
In the second, third and fourth matches it proved more difficult to come back from bad starts, and whilst never losing heart, all matches were lost by the 16th. By the time they finished, the last match still had 4 holes to play, so attracted quite a crowd, as both teams and parents gathered around, giving them a real flavour of what County golf is about. Charlie Bramley and George Derbyshire had drawn level after a shaky start, and the match was close from the 8 holes onwards. A win on 15 squared it up again, and a brilliant 12 foot putt from Charlie on 16 kept it even. Another half on 17 saw a second match going down the last. Both Charlie and George ahd long range chances for the win, but in the end a half was a fair result.
The match was, as you would expect, a friendly affair – all parents and organisers were just happy to be playing again. Derbyshire fielded a young team; many of them have 3 or more years ahead of them at Under 14s level alone! They are keen and will learn fast. The future is bright, and I look forward to seeing their progress.
Final words of thanks to Brailsford, and Jennie and her team, who were superb hosts and looked after our needs start to finish; to Dave McCarthy at the range, and to Paul Smith for his support throughout the day.
Team pictured,
Back L to R: Benjamin Wharton, George Padden, Harley Holland, Charlie Burnham, George Derbyshire
Front L to R: Luca Abraham, Jay Whatley, Jack Guy (Captain), Leo Lambert, Jamie Hunt