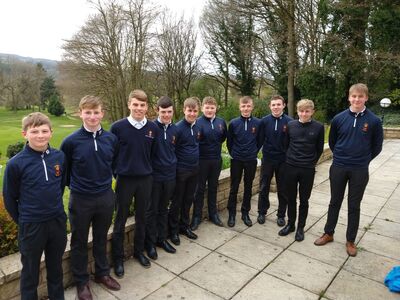 Venue: Chesterfield Golf Club
Date: 14th April 2018
Under 18s off to a winning start!
An extremely cold day saw Chesterfield GC play host to the first Under 18s match of the season, as Derbyshire, captained by Max Hughes, came up against a strong Worcestershire side, with all their players Category 1 golfers.
Derbyshire were off to a quick start in the morning foursomes, with comfortable wins in the first two matches for Sam Potter/Daniel Heaslip and Max Hughes/Jack Barker-Sabido. Ben Wain and Tom Weeks (playing 4 years ahead of his age) then added a further point to see us win the foursomes 4-3. It was clear at that point though, that this was going to be a close match and the singles confirmed that.
Sam played superbly, with 16 straight pars to beat the Worcestershire captain, Jack Severn by 3 and 2. Dan was unable to follow this up however, and after a good start, was beaten on the 17th. They were straight out on to the course to watch their team mates (despite the attraction of the Masters in the clubhouse) and saw Max win by 3 and 1, and then to observe a great comeback from Jack. 4 down with 6 to play, Jack won 5 straight holes and halved the last to triumph 1 up, and give the lads a real chance. The next few matches were tight. Matt Pepper battled superbly with a great up and down from the bunker on 17 to take it down the last, though he lost to a birdie there. Ben was 2 up with 2 play but again saw his lead cut and ended up halving his match. Tommy suffered from a little bit of an off day and an opponent in great putting form to lose his match and Tom was always up against it against the excellent Tom Wakeman. We needed a point and a half in the last two matches, which pitted Chesterfield juniors Harvey Sands and Louie Cole against 2 opponents who were off half their handicap. Down early on, Harvey battled hard and played almost par golf on the back 9 to stay in the match, eventually making a superb 5 on the 18th to gain a valuable half. Louie was in deep trouble early on, being 4 down through 5 holes. He also battled hard and went to the turn only 2 down. He then won 13 with an eagle 2 (!), holing out from 180 yards, and incredibly, went on to play the last 6 holes in 3 under par to win by 2 holes, a 2 putt from 60 feet on the last sealing his victory.
There were so many positives to take from the match; most notably the incredible spirit and sense of team camaraderie that seems to drive these guys on. Also a number of learning points, especially about having a plan and following it through.
The match was played in a great spirit throughout. The club President attended at the start of the day and afterwards and both captains asked him to pass on their thanks to the catering staff and greenstaff who looked after them superbly throughout the day. My thanks also go to Paul Smith for his support throughout the day and, as ever, to the parents, without whom none of these experiences would be possible.
Next match is against Warwickshire at Rugby on May 5th.