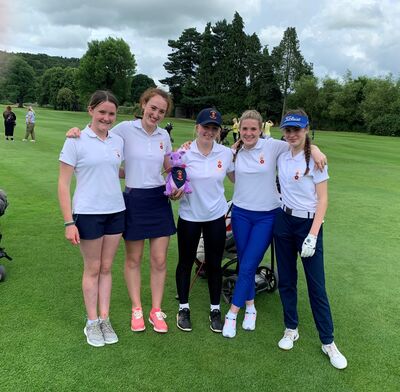 Captain's Match Report - Sunday 4th July 2021
Chevin Golf Club
AM Derbyshire VS Shropshire
Imogen Rafferty – win 6&5
Ella Whaley – win 4&3
Izzie Kelly – win 4&2
Eva Myers – win 2&1
Olivia Streets – loss 2&1
4 - 1 win for Derbyshire
It is safe to say on this day the weather really was not on our side, with 2 play suspensions due to thunder and lightning! The first delay being after only a few holes into the second round causing a delay of an hour until we got back out onto the course to continue our games. However, this didn't rattle our girls and we all went back out there strong and fighting to get the second point on the board for team Derbyshire. The second suspension due to weather caused an abandonment of play for Olivia's match after playing her tee shot on 17!
Firstly, I would like to say a massive well done to the girls. I am so proud of all of you, bringing back 2 wins for Derbyshire against both Shropshire and Staffordshire. It's the most we could have asked for and you've sure made me and Alice very proud.
Imogen cruised through the day coming back with both an AM and PM win. She was never down in either match and comfortably winning both matches after being 4 up most of the time, this is also Immy's last year so a great start to her final year. I would just like to say a quick thank you to Immy as she was captain in my first-year on the scratch team and made me feel so comfortable and a real role model and inspiration to me so thank you and you will be greatly missed after this season. The best of luck for your future. Much love from us all!!
I didn't have the best start to my matches being 2 down after 6 in the AM match but coming back to win 4&3. In the afternoon I had a really poor start, being 5 down after 8 but grafted hard and came back fighting to be standing on the 18th tee all square after winning 13,15,16 and 17 all with birdies. I then halved 18 with a birdie to come away with all square to put a half point on the board which later came to help Derbyshire come away with a win.
Also bringing back two wins for Derbyshire was Izzie, staying very calm and focused throughout the day. As per usual very consistent and keeping her head held high. With many more years ahead to come playing for Derbyshire to and many more points to bring home, Izzie will always be an amazing team member to have.
I would also like to personally give a massive well done to Eva with this match being her first for Derbyshire and coming away with an AM win and putting a very important point on the board. She played great golf and also kept her head held high and never stopped fighting. With many more wins to come and many more years bringing home points for Derbyshire. Can't wait to see Eva progress into an even better golfer.
I would also like to congratulate Olivia for being 2 down standing on the 15th tee after being 4 down early on but then coming back to win 15 and 16 bringing it back to all square leading to the 17th which later turned out to be a massive part of Derbyshire's win. However, the weather wasn't on Olivia's side and the heavens decided to open with the second delay due to thunder and lighting. With the match being agreed on a half this gave Derbyshire the extra half point for the overall win against Staffordshire
I would also like to thank Alice for always being there for us all at each match, supporting and encouraging us all to fight to the very end. So, thank you Alice, the best organizer a team could ask for.
Also, a huge thank you to Eleanor our deputy manager for being a great support and making sure we were all ok throughout the day.
Finally, here's to a great 2021, and to retaining the title.
Ella Whaley
2021 U18 Captain