County Week 2021
1st Team announcement for the Midland north region - county match week.
TO BE HELD AT HINCKLEY GOLF CLUB AND HOSTED BY LEICESTERSHIRE.
THE FOLLOWING PLAYERS HAVE BEEN SELECTED TO REPRESENT DERBYSHIRE AT THIS YEAR'S COUNTY WEEK.
1 Mel Davey - Chesterfield
2 Debbie Deakin - Chevin
3 Debbie Eaglefield - Burton on Trent
4 Harriet Evans - Erewash Valley
5 Sarah Lundy - Matlock
6 Hannah Morrison - Chapel en Le Frith
7 Mel Prime - Horsley Lodge
8 Imogen Rafferty - Breadsall Priory
9 Catrin Russell - Chevin
10 Lindsey Shaw - Chevin
Over the 2 and a half days of competition Derbyshire will play 5 other counties. Each day will consist of 2 foursomes matches and 3 singles matches playing at the same time. Below are the dates and times of the matches along with a link to the team sheet and result when available.
Here is a link to the LRLCGA website - MNR County Week Hosts 2021
Current standings 2021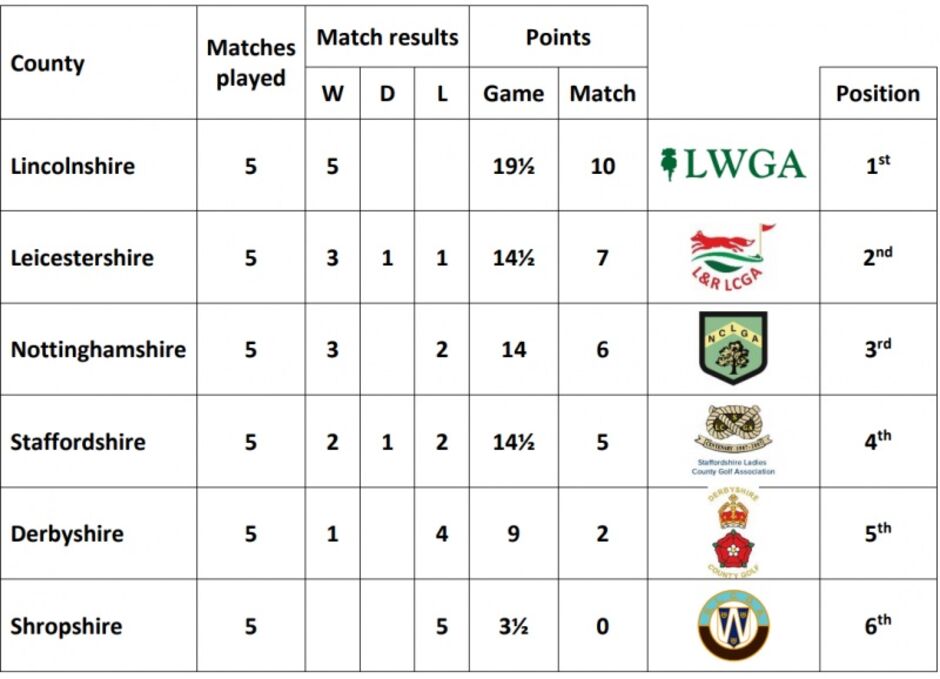 Monday 28 June
Lincolnshire Match 2: am - Team Sheet and Result - Derbyshire 0 Lincolnshire 5
Monday 28 June
Leicestershire Match 6: pm - Team Sheet and Result - Derbyshire 2 Leicestershire 3
Tuesday 29 June
Staffordshire Match 8: am - Derbyshire 1 Staffordshire 4
Tuesday 29 June
Nottinghamshire Match 10: pm - Derbyshire 2 Nottinghamshire 3
Wednesday 30 June
Shropshire Match 13: am - Derbyshire 4 Shropshire 1
Supporters for this event would be most welcome -

Janet Thomas - County Captain 2021
Contact details 07977 238559 - janett2008@hotmail.co.uk